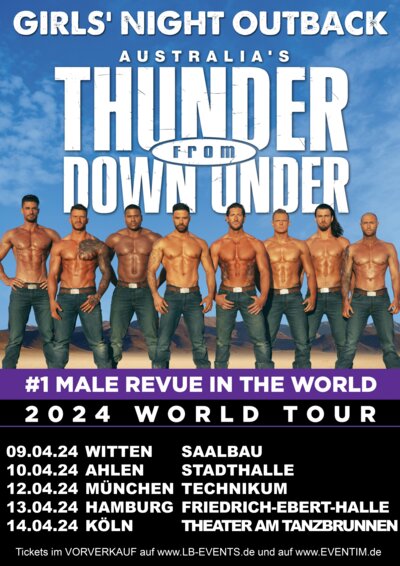 Thunder From Down Under

-

Untamed Tour

Get ready to experience an exhilarating and electrifying extravaganza as Thunder from Down Under, the world-renowned Australian male revue, announces its highly anticipated return to Germany in April 2024 with their UNTAMED TOUR.

The sizzling hot international sensation is set to set the stage on fire with their captivating performances and infectious energy, promising an unforgettable night of entertainment for fans across the country. Known for their charismatic personalities, chiseled physiques, and mesmerizing dance routines, Thunder from Down Under has been leaving audiences in awe for years. Their unmatched Australian charm and talent have earned them a dedicated global following, making them one of the most sought-after live shows in the entertainment industry.

The 2024 Germany tour promises to be an extraordinary event, featuring a production filled with heart-pounding dance numbers, sensational costumes, and interactive audience engagement. With a mix of classic routines and innovative acts, Thunder from Down Under guarantees a night of excitement and thrill, leaving fans on the edge of their seats. The international acclaimed male revue has garnered an impressive array of awards and accolades throughout its illustrious career including Best Male Revue and recently being awarded the Keys to the City in Las Vegas.

Celebrating over 2 decades on the Las Vegas strip, and sold out shows every night, Thunder attracts a star-studded audience, with celebrities like Heidi Klum, Britany Spears, Kelly Clarkson, and Priyanka Chopra seeing the show.

The UNTAMED tour is scheduled to kick off in Witten on April 9th, followed by shows in Munich, Hamburg, Cologne, and other cities across Germany. Tickets are expected to sell out quickly, so fans are encouraged to secure their seats early to avoid missing out on this one-of-a-kind experience. For an unforgettable night of fun, laughter, and top-notch entertainment, Thunder from Down Under's 2024 Germany tour is an absolute must-see event.

Don't miss the chance to witness the electrifying performances of Thunder from Down Under as they make their triumphant return to Germany. Get ready to be blown away!
Tour dates
Tuesday, 09.04.2024
Saalbau, 58452 Witten
Bergerstraße 25
Entry: 19:00 o'clock
Wednesday, 10.04.2024
Stadthalle, 59227 Ahlen
Westenmauer 10
Entry: 19:00 o'clock
Friday, 12.04.2024
Technikum, 81671 München
Speicherstraße 26
Entry: 19:00 o'clock
Saturday, 13.04.2024
Friedrich-Ebert-Halle, 21075 Hamburg
Alter Postweg 30-36
Entry: 19:00 o'clock
Sunday, 14.04.2024
Theater am Tanzbrunnen, 50679 Köln
Rheinparkweg 1
Entry: 18:00 o'clock